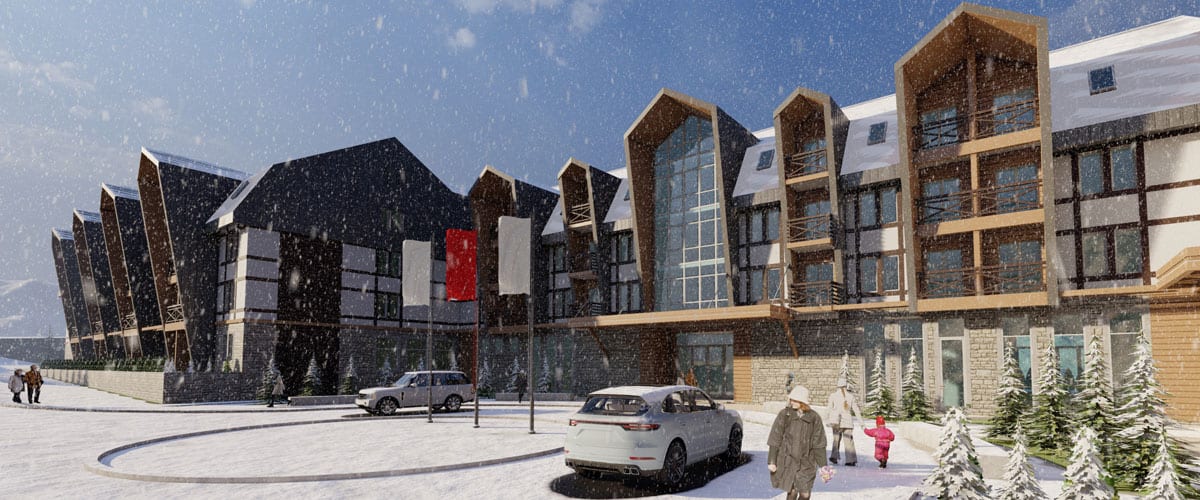 Montenegro's Latest Approved Development in Kolasin
Bjelasica 1450 Hotel under Montenegro's CIP launches exclusive to Arton.
Centrally located within the graceful curves of the Bjelasica mountain, right near the acclaimed Kolašin 1450 ski resort, Bjelasica 1450 will indulge visitors in the ideal balance between comfort, adventure, and refinement. The majestic 4-star resort which will be built on 3-acres of alpine forests, will offer 168 refined units in various room types; each encompassing elevated quality and indulgent comfort.
Upon entering the hotel premises, visitors will be greeted in a sophisticated lobby with a reception area and lobby bar and have the pleasure of being within reach of carefully selected retail stores, including a pharmacy, beauty salon, spa, and restaurants.  The hotel will also feature an indoor pool, storage facilities and ski storage for guests, as well as 3 spacious terraces overlooking the ski slopes with an outdoor pool.
To qualify for Montenegro's Citizenship by Investment Program, investors can purchase a unit in the new development project of Bjelasica 1450 for €250,000, with 21% VAT included, in addition to a Government Fund Donation of €100,000. The holding period for the investment is 5 years, after which investors can resell to a new investor in the program.
Montenegro's citizenship program offers global investors some of the most vital and valuable benefits in the industry, including a fast procedure with approval of citizenship granted in six months, freedom of global mobility to over 123 nations with the Montenegrin passport, and undeniable access to one of the region's fastest growing economies.
It is the 4th government-approved project in the north of Montenegro, offering investors the privilege to select amongst diverse real estate options including, luxury 5-star Hotel Breza, the acclaimed Westin Hotel in Kolašin, and another breathtaking project near UNESCO World Heritage Site in Durmitor.
---