The Passport Index is the first real-time interactive platform to display, sort, and rank the world's passports. 
What is the purpose of the Passport Index?
The Passport Index is an interactive online tool that allows users to discover the world of passports by learning about their power and their significance in today's ever-increasing global world.
Calculate your passport's Global Mobility Score, improve your passport ranking, and discover the latest news and sharpest insights on visa policies, biometric technology, country branding, public security, philanthropy, foreign policy, and more.
Created by Arton Capital in 2014, The Passport Index quickly became the world's most popular destination to learn about passport power. With over 65M views by December 2020, it is simply the undisputed global reference on passport ranking.
Inspire
In today's world, becoming a Global Citizen is more important than ever. Having a second citizenship is a liberating and empowering privilege that comes with a shared responsibility to the world.
Inform
Educate and inform our community on the power of passports. United by our diversity, our passport is one of the most important tools to influence global opportunity, mobility and quality of life.
Engage
Encourage discussions on visa policies, citizenship, country branding, global mobility, public security, philanthropy and foreign policy.
What is the Passport Index methodology?
The Passport Index methodology has been thoroughly crafted to ensure absolute accuracy and consistency. Data is based on proprietary research from publicly available sources and official information provided by government agencies. The passports considered in our index include 193 United Nations members and 6 selected territories. Territories that do not issue their own passports are excluded and are not considered as destinations. Countries that issue passports, regardless if they enforce independent visa policies are considered as destinations.
For more information on our methodology, visit our website.
Why is Passport Power important?
As one of the most vital accessories of identity, our passports have transcended their physical form and now influence global opportunity, freedom of mobility and quality of life. Mandated by governments to monitor and improve their passport ranking, The Passport Index has become a trusted partner towards empowering global mobility.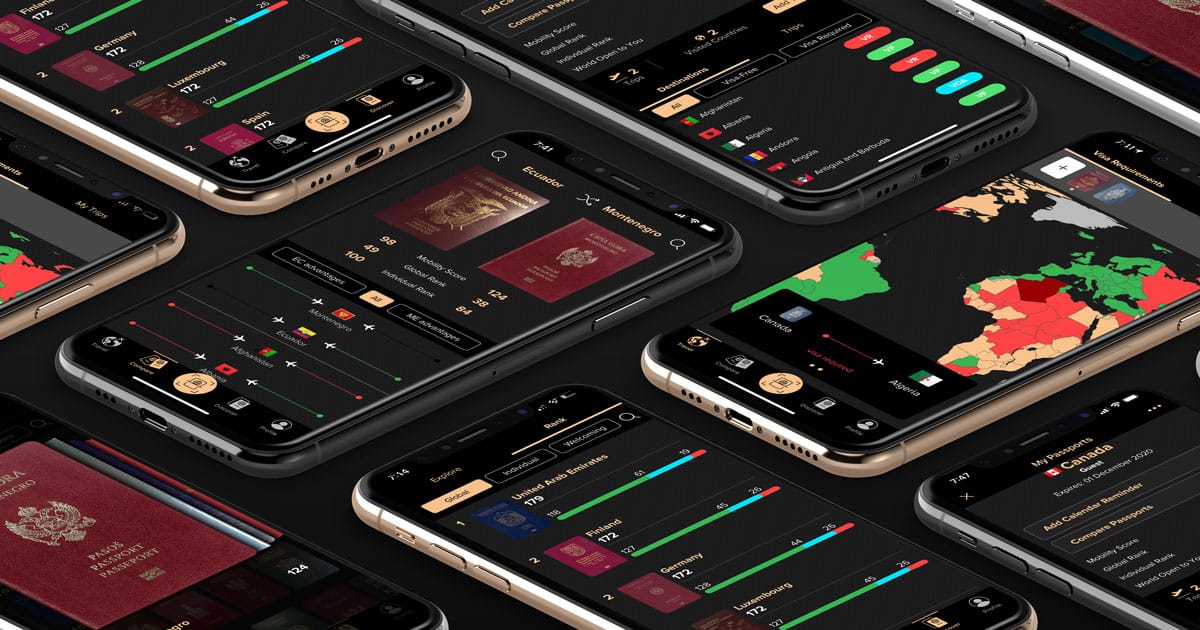 How to use the Passport Index?
EXPLORE PASSPORTS
---
The first-ever online interactive tool that allows you to dig deeper into passport rankings by country, region, location, colour, and more. Uncover new things about your passport, or discover interesting trends of others.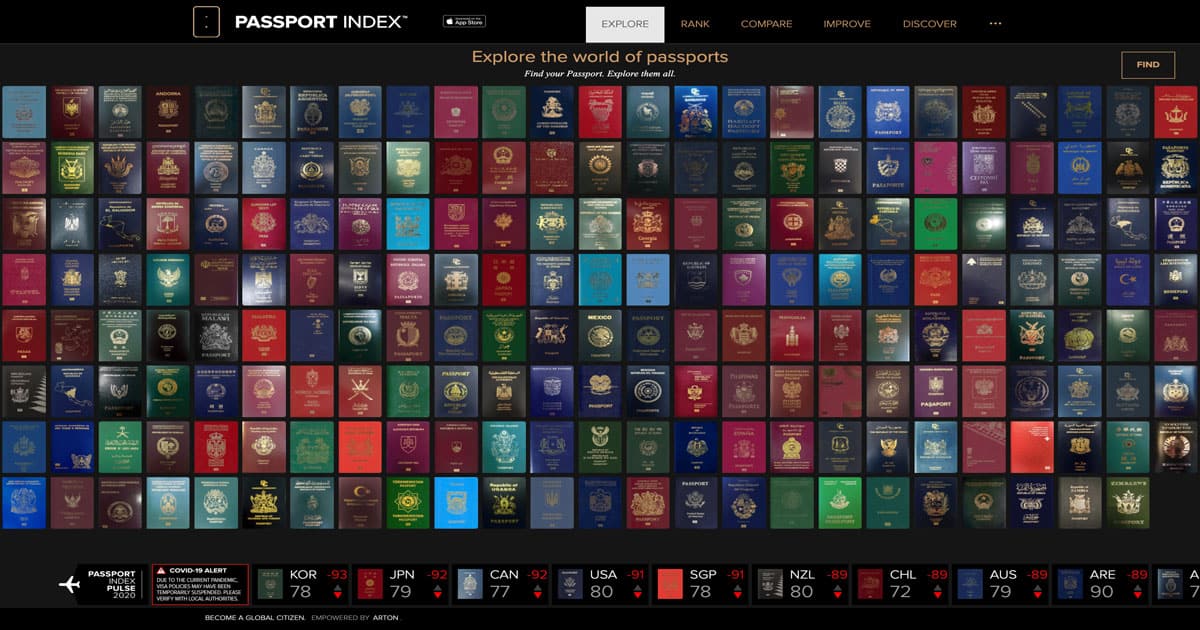 RANK PASSPORTS
---
The Passport Index has developed three different types of ranking systems to uncover trends and algorithms to define mobility, unity, and freedom: Global, Individual, and Welcoming.
Passports of the world are sorted by their Mobility Score (MS), which includes visa-free, visa on arrival, eTA and eVisa if the country issued less than 3 working days. The higher the MS score, the better global mobility its passport holder enjoys. If the countries have the same MS their ordered by visa-free, visa on arrival, eTA they have, The more visa-free the highest position in the same MS they have. You can filter the GPPR by region, union, continent and type of passports and compare the MS for up to 4 passports.
Individual Passport Power Rank
The new edition of the Passport Index introduced a unique ranking system, where each passport occupies an individual rank, based on their individual country and visa characteristics. This rank is unique for every passport because the rank number can't be the same for two passports. We calculate by MS and UNDP HDI (Human Development Index). The HDI is a summary measure of average achievement in key dimensions of human development: a long and healthy life, being knowledgeable and have a decent standard of living. The meaning that two countries with the same MS but with different HDI will be ranked differently. You can filter the GPPR by region, union, continent and type of passports and compare the MS for up to 4 passports.
Some passports command respect and visa-free access to many parts of the world. But how welcoming are they? The Global Country Welcoming Rank considers the country and how many passports are welcomed without needing a prior visa. The Welcoming Country Score (WCS) includes visa-free, visa on arrival, eTA and eVisa if the country issued less than 3 working days. Passport Index' Country Welcoming Rank showcases the most and least welcoming countries in the world, ranked solely on the number of countries they accept visa-free or with visa on arrival. You can filter the GPPR by region, union, continent and type of passports and compare the MS for up to 4 passports.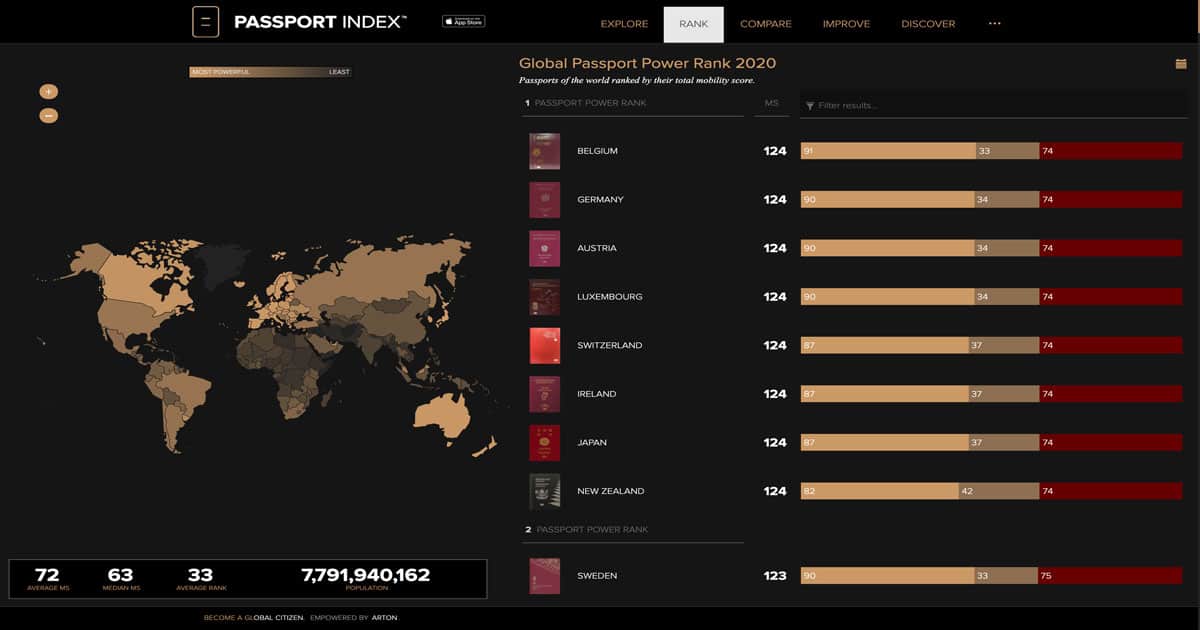 World Openness Score
---
Prepare to explore many intrinsic factors about the socio-political standing of different nations with the use of our WOS tool, and analyze how welcoming, or open, our world is becoming.
The World Openness Score (WOS) is a real-time barometer of the state of mobility around the world. The maximum WOS is 199 x 199 = 39,402, given that every country can visit every other country without requiring a visa. The closer the score gets to this ultimate number, the more open, or rather, boundless our world becomes. We calculate the WOS in real-time and track the variation of the score over time. We can filter the countries by Continent, Region, and Union. What the WOS can tell us about the welcomeness of our world is depicted through the global increases or decreases of openness by country.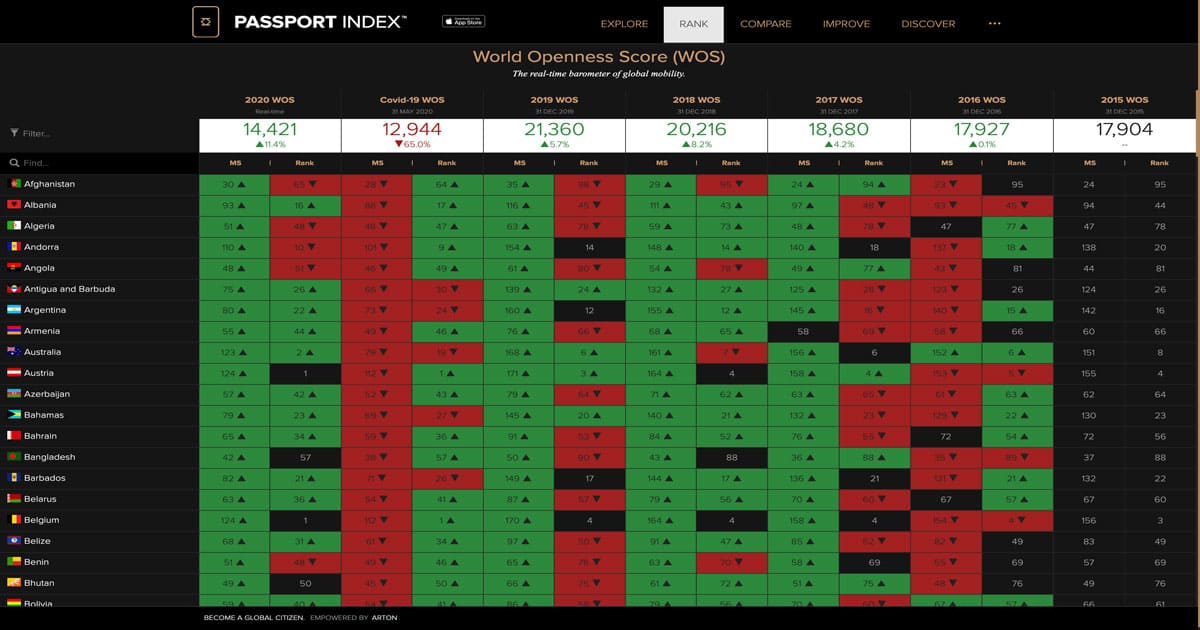 COMPARE TOOLS
---
Compare passports side by side to reveal exciting details about visa policies, global mobility scores, and much more!
Ready to discover stark differences or similarities within the world's passports?
Ready to unlock the welcoming scores of different nation's passports?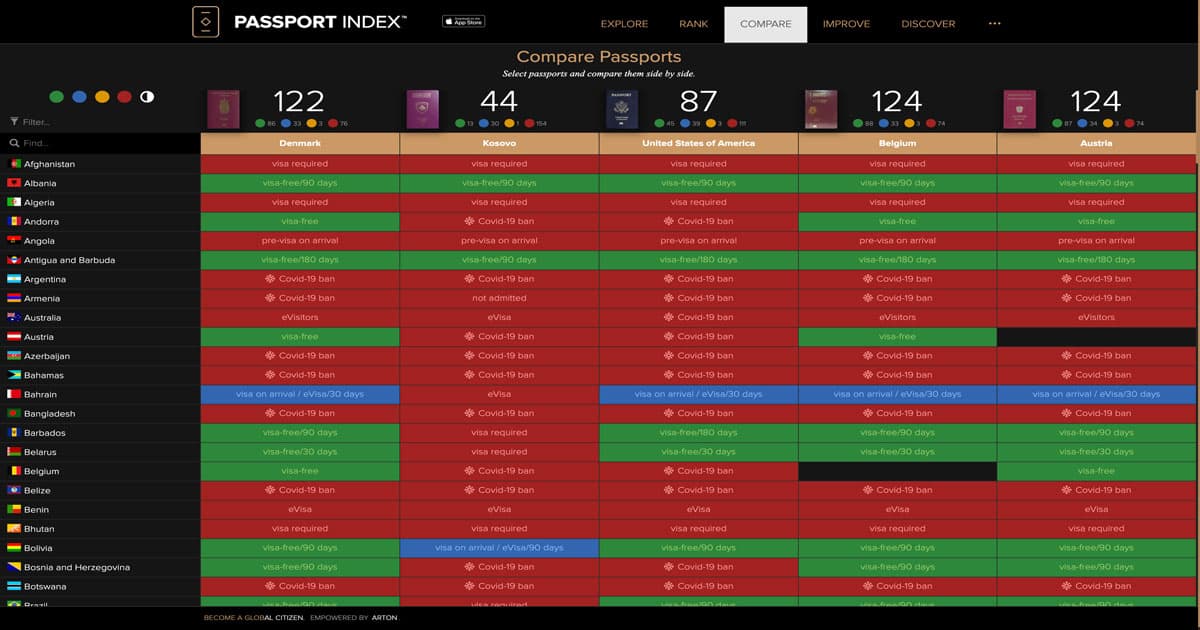 IMPROVE PASSPORT MOBILITY
---
The ultimate freedom to travel, explore, and discover. That is what an additional passport can grant you. What does your mobility look like?
Have you ever wondered where you can go with an improved mobility score? This tool will show you how many countries you can visit hassle-free if you have second, third or more passports. Discover which additional passport(s) can improve your Global Mobility Score. The higher the global mobility score, the more countries you can visit visa-free, or with visa on arrival.
TRAVEL VISA CHECKER APP
---
Streamlined Visa Requirements on the Go
Fun travel is great. Smart travel is better. For urgent visa questions on the go, the Passport Index Travel Visa Checker app for Android gives you simple and quick answers in a few clicks!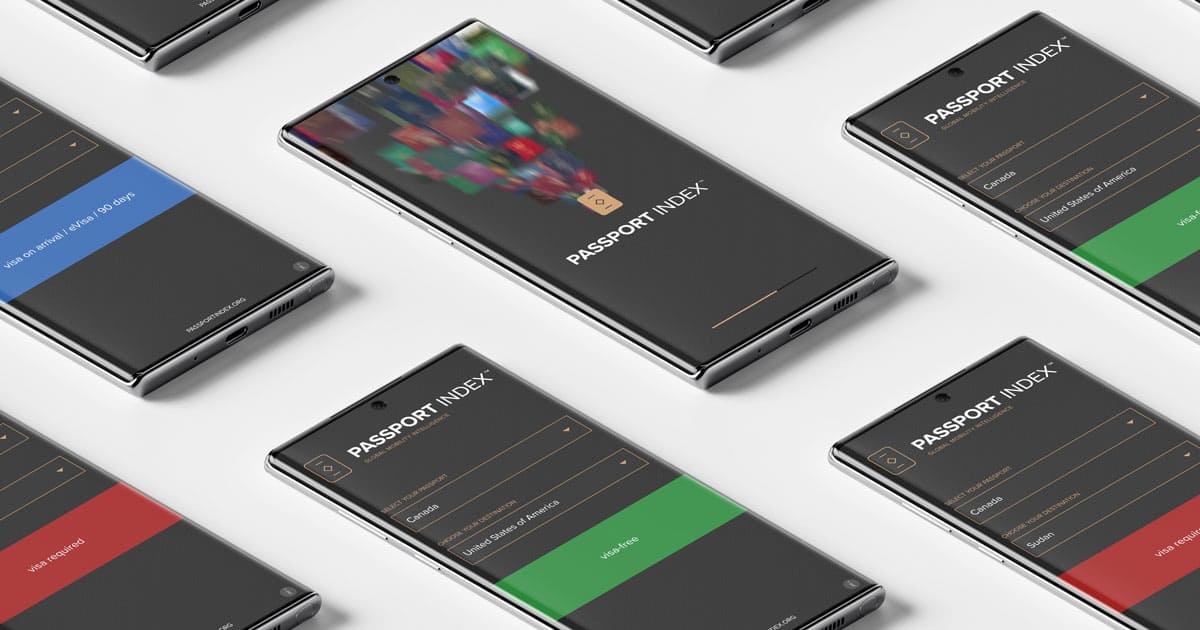 United States of America passport holders can visit 173 countries visa-free1 or 87% of the world.
AFRICA
|
AMERICAS
|
ASIA
|
EUROPE
|
OCEANIA
A
Albania
Andorra
Angola
Antigua and Barbuda
Argentina
Armenia
Australia
Austria
Azerbaijan
B
Bahamas
Bahrain
Bangladesh
Barbados
Belgium
Belize
Bolivia
Bosnia and Herzegovina
Botswana
Brazil
Brunei
Bulgaria
Burkina Faso
Burundi
C
Cambodia
Canada
Cape Verde
Central African Republic
Chile
Colombia
Comoros
Congo (Dem. Rep.)
Costa Rica
Cote d'Ivoire (Ivory Coast)
Croatia
Cuba
Cyprus
Czech Republic
D
Denmark
Djibouti
Dominica
Dominican Republic
E
Ecuador
Egypt
El Salvador
Equatorial Guinea
Estonia
Eswatini
Ethiopia
F
Fiji
Finland
France
G
Gabon
Gambia
Georgia
Germany
Greece
Grenada
Guatemala
Guinea
Guinea-Bissau
Guyana
H
Haiti
Honduras
Hong Kong
Hungary
I
Iceland
India
Indonesia
Iraq
Ireland
Israel
Italy
J
Jamaica
Japan
Jordan
K
Kazakhstan
Kenya
Kiribati
Kosovo
Kuwait
Kyrgyzstan
L
Laos
Latvia
Lebanon
Lesotho
Liechtenstein
Lithuania
Luxembourg
M
Macao
Madagascar
Malawi
Malaysia
Maldives
Malta
Marshall Islands
Mauritania
Mauritius
Mexico
Micronesia
Moldova
Monaco
Mongolia
Montenegro
Morocco
Mozambique
N
Namibia
Nepal
Netherlands
New Zealand
Nicaragua
Nigeria
North Macedonia
Norway
O
Oman
P
Pakistan
Palau
Palestinian Territories
Panama
Papua New Guinea
Paraguay
Peru
Philippines
Poland
Portugal
Q
Qatar
R
Romania
Rwanda
S
Saint Kitts and Nevis
Saint Lucia
Samoa
San Marino
Sao Tome and Principe
Saudi Arabia
Senegal
Serbia
Seychelles
Sierra Leone
Singapore
Slovakia
Slovenia
Solomon Islands
Somalia
South Africa
South Korea
South Sudan
Spain
Sri Lanka
St. Vincent and the Grenadines
Suriname
Sweden
Switzerland
T
Taiwan
Tajikistan
Tanzania
Thailand
Timor-Leste
Togo
Tonga
Trinidad and Tobago
Tunisia
Tuvalu
Türkiye
U
Uganda
Ukraine
United Arab Emirates
United Kingdom
Uruguay
Uzbekistan
V
Vanuatu
Vatican City
Viet Nam
Z
Zambia
Zimbabwe