The Passport Index is the first real-time interactive platform to display, sort and rank the world's passports. 
What is the purpose of the Passport Index?
The Passport Index is an interactive online tool that allows users to discover the world of passports by learning about their power and their significance in today's ever-increasing global world.
Calculate your passport's Global Mobility Score, improve your passport ranking, and discover the latest news and sharpest insights on visa policies, biometric technology, country branding, public security, philanthropy, foreign policy, and more.
Created by Arton Capital in 2014, The Passport Index quickly became the world's most popular destination to learn about passport power. With over 36M views, it is simply the undisputed global reference on passport ranking.

How to use the Passport Index?
EXPLORE PASSPORTS
---
The first-ever online interactive tool that allows you to dig deeper into passport rankings by country, region, location, colour, and more. Uncover new things about your passport, or discover interesting trends of others.

RANK PASSPORTS
---
The Passport Index has developed three different types of ranking systems to uncover trends and algorithms to define mobility, unity, and freedom: Global, Individual, and Welcoming.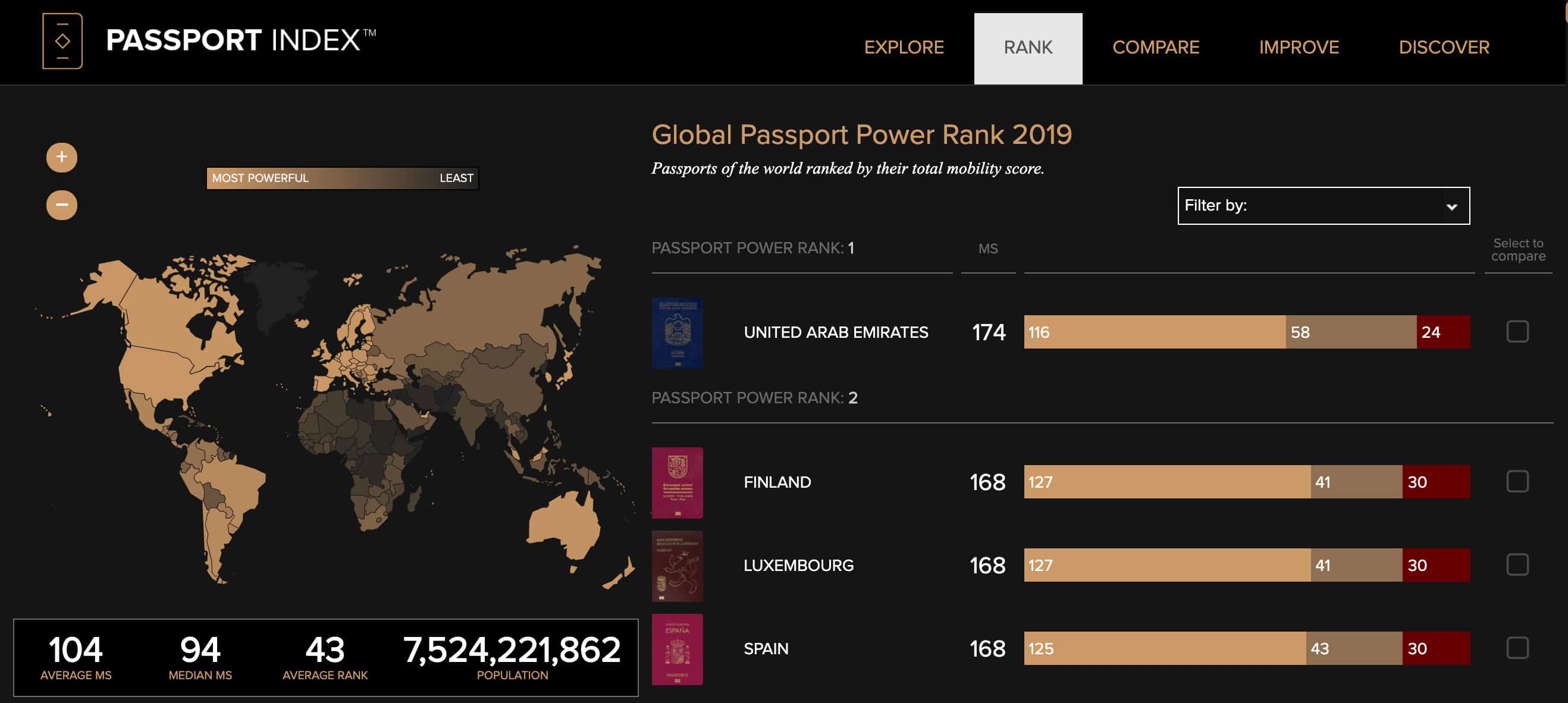 World Openness Score
---
Prepare to explore many intrinsic factors about the socio-political standing of different nations with the use of our WOS tool, and analyze how welcoming, or open, our world is becoming.

COMPARE TOOLS
---
Compare passports side by side to reveal exciting details about visa policies, global mobility scores, and much more!

IMPROVE PASSPORT MOBILITY
---
The ultimate freedom to travel, explore, and discover. That is what an additional passport can grant you. What does your mobility look like?

TRAVEL VISA CHECKER APP
---
Streamlined Visa Requirements on the Go
Explore The World of Passports
---