A booming hub in the heart of Central Europe, Hungary is one of the most-visited, culturally rich and well-located countries on the Old Continent.
The Hungarian Investor Residency Bond Program is suspended.
Explore other residence and/or citizenship by investment programs in Bulgaria, Portugal and Cyprus.
WHY CHOOSE HUNGARY?
As a member of the European Union and the Schengen zone, Hungary is among the 30 most-visited destinations on the planet. The country is perfectly located in the center of Europe and boasts a rich and diverse culture of music, film, food and literature, as well as universal health care. Established in 2012, the Investor Residency Bond Program offers applicants a host of advantages:
Inclusion of qualifying family members, including parents, without age restrictions.
No requirement to travel to Hungary. Applications can be lodged at the respective Hungarian Consulate.
Fast processing leading to EU permanent residency for life in under 30 days.
No physical residency requirements.
Fully guaranteed investment returned in full after five years.
Free movement throughout Europe's Schengen zone.
Qualifications
The Investor Residency Bond Program does not have any set criteria for applicants in terms of personal net worth or management experience. However, the Hungarian administration officers reserve the right to request an interview meeting with the applicant, which can be exercised at random.
During the initial due diligence and application stages, the financial intermediary and the Hungarian authorities will follow standard know-your-clients and anti-money laundering procedures. Main applicants must provide a set of standard documents proving their source of income and accumulation of personal net worth.
INVESTMENT OPTIONS
Full Investment
The statutory procedure for accepted foreign direct investment in the Investor Residency Bond Program includes the purchase of special Hungarian government bonds in the amount of €300,000 with a maturity of five years. At maturity, the original capital is returned to the investor without accrued interest.
Legislation dictates that the program investment is used to purchase bonds that are issued by a Residency Bond Agent approved by the Hungarian authorities. The agent, in turn, invests that amount in the Hungarian government bonds. This transaction is subject to a Subscription Agreement with the designated enterprise, which must be licensed for the main applicant's geographic region. The government bonds are assigned for the program only and cannot be used for trading on the public or the secondary market.
Once the security is issued to the investor, the Residence Bond Agent will provide an irrevocable declaration certifying that a Treasury bond with a nominal value of €300,000 and a five-year maturity will be purchased using the funds received from the investor within 45 days of his/her residence permit being issued. In addition to the investment, applicants are also required to cover all processing and visa application fees.
To further guarantee the investment, applicants may wish to obtain a Letter of Bank Guarantee by the issuing bank. Additional fees by the bank may apply.
Arton Capital Hungary has been awarded exclusivity in the following 29 countries: Afghanistan, Algeria, Bahrain, Egypt, Hungary, Indonesia, Iraq, Jordan, Kazakhstan, Kuwait, Lebanon, Libya, Malta, Morocco, Nigeria, Oman, Pakistan, Qatar, Saudi Arabia, Singapore, Syria, Switzerland, Thailand, Tunisia, United Arab Emirates, the United Kingdom, the United States of America, Vietnam and Yemen.
As the only agent registered in Hungary, we can accept applicants from any country, provided applications are lodged in person within Hungary. All other applicants must make sure that their investment is made through the designated agent responsible for their specific region.
Financed Investment
An extremely attractive financing offer is available for a one-time fee of €125,000 to clients who wish to leverage their capital. The loan is initiated and repaid at no further cost to the investor. Standard government fees are applicable in addition to the financing cost. Please contact us for details.
NEXT STEPS:
ARTON INDEX SCORE
0
0

cost

0

speed

0

global mobility

0

quality of life

0

simplicity
---
Updated yearly, the Arton Index is an overall assessment and comparative benchmark of the country and its investment program.
---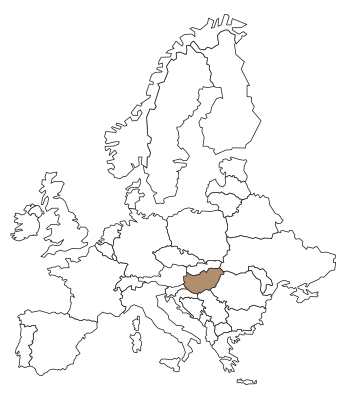 9,874,784
Population Growth: -0.24%
27,200 USD
GDP (per capita)
GDP (purchasing power parity)
267.6 billion USD
168
Visa free countries
---
LOCATION
Central Europe, northwest of Romania
CAPITAL
Budapest
DIFFERENCE
UTC+1
TOTAL AREA
93,028 sq. km.
AGE DEMOGRAPHICS
0-14: 14.76%, 15-24: 11.19%, 25-54: 41.74%, 55-64: 13.66%, 65+: 18.65%
LANGUAGE
Hungarian (official): 99.6%, English: 16%, German: 11.2%, Russian: 1.6%, Romanian: 1.3%, French: 1.2%, Other: 4.2%
RELIGIONS
Roman Catholic: 37.2%, Calvinist: 11.6%, Lutheran: 2.2%, Greek Catholic: 1.8%, Other: 1.9%, None: 18.2%, Unspecified: 27.2%
GOVERNMENT TYPE
Parliamentary republic
CURRENCY
Hungarian forint (HUF)
EXCHANGE RATE
1 USD = 273.8 HUF