A booming hub in the heart of Central Europe, Hungary is well-known for its artists, folklore, hot and thermal springs, and distinctive cuisine. Historically, the country has benefited from its geographic location, as the junction of Eastern and Western Europe, and is to date an important economic and social European center.
WHY CHOOSE HUNGARY?
Hungary ranks among the top 30 most frequently visited countries. It is rich in history and culture, offering a diverse range of services for its residents, including universal healthcare and high-quality education systems. Hungary's central location in Europe makes it an excellent base for exploring the rest of Europe while being easily accessible from various parts of the world.
Furthermore, additional benefits include:
Efficient application process with a possibility to reduce the number of travels and perform necessary submissions overseas;
Inclusion of dependent children and parents;
Attractive real estate and business investment opportunities;
Member of the Schengen zone, the European Union and NATO;
Powerful and well-respected passport with visa-free travel to over 172 countries.
Qualifications
To apply for Hungarian residence, applicants must meet a few important qualification criteria, among which:
Successfully undergo the due diligence and background verification checks performed at the various process stages;
Demonstrate that they have sufficient means to support themselves and their family members and to be able and willing to disclose the source of wealth;
Receive approval by the competent authorities to buy residential property;
Prove that they have the necessary means to buy residential property in Hungary and to purchase in full such property within the specific time frame.
INVESTMENT PROCESS
The legal procedure mandates that once the investor selects a property, they must seek permission to purchase from the competent authorities. During this process, obligatory background verification and due diligence checks are conducted.
Investors must demonstrate sufficient funds in a deposit or personal account to cover not only the real estate purchase price but also the minimum amount required to sustain the investor and any accompanying family members.
Upon making a 10% down payment, the chosen property is reserved by the authorities until final permission to complete the purchase is granted.
Once approval is obtained, the investor is responsible for transferring the full purchase amount, along with any applicable state and municipal fees and charges, to complete the transaction. The entire process of requesting approval and finalizing the purchase is managed by a lawyer.
To facilitate the process and guide investors, Arton maintains a portfolio of exceptional property offers that adhere to the required criteria for the minimum livable area per individual, as well as the specific type and function of the property.
APPLICATION FEES
The fees associated with the application process include legal representation fee for the residence application, and state application fees and charges. Arton service fees may vary based on the complexity of the file and the number of applicants. Contact Arton for a comprehensive offer.
In addition to the above, investors must also cover expenses related to document attestation and authentication, application for visa and permits outside of Hungary, travel and sojourn in Hungary before the acquisition and the transfer of their own properties.
All fees charged by the Hungarian authorities and by Arton are subject to change.
NEXT STEPS:
ARTON INDEX SCORE
0
0

cost

0

speed

0

global mobility

0

quality of life

0

simplicity
---
Updated yearly, the Arton Index is an overall assessment and comparative benchmark of the country and its investment program.
---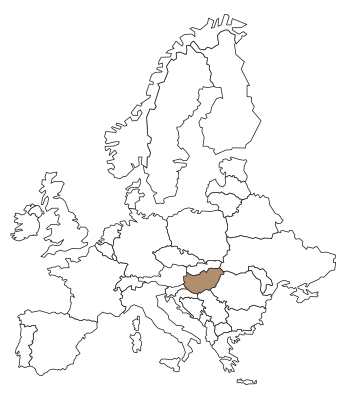 9,709,891
Population Growth: -0.4%
27,200 USD
GDP (per capita)
GDP (purchasing power parity)
356.9 billion USD
175
Visa free countries
---
LOCATION
Central Europe
CAPITAL
Budapest
DIFFERENCE
UTC+1
TOTAL AREA
93,028 sq. km.
AGE DEMOGRAPHICS
0-14: 14.5%, 15-24: 10.4%, 24-54: 42.2%, 55-64: 12.2%, 65+: 20.7%
LANGUAGE
Hungarian (official): 99.6%, English: 16%, German: 11.2%, Russian: 1.6%, Romanian: 1.3%, French: 1.2%, Other: 4.2%
RELIGIONS
Roman Catholic: 37.2%, Calvinist: 11.6%, Lutheran: 2.2%, Greek Catholic: 1.8%, Other: 1.9%, None: 18.2%, Unspecified: 27.2%
GOVERNMENT TYPE
Parliamentary republic
CURRENCY
Hungarian forint (HUF)
EXCHANGE RATE
1 USD = 344 HUF