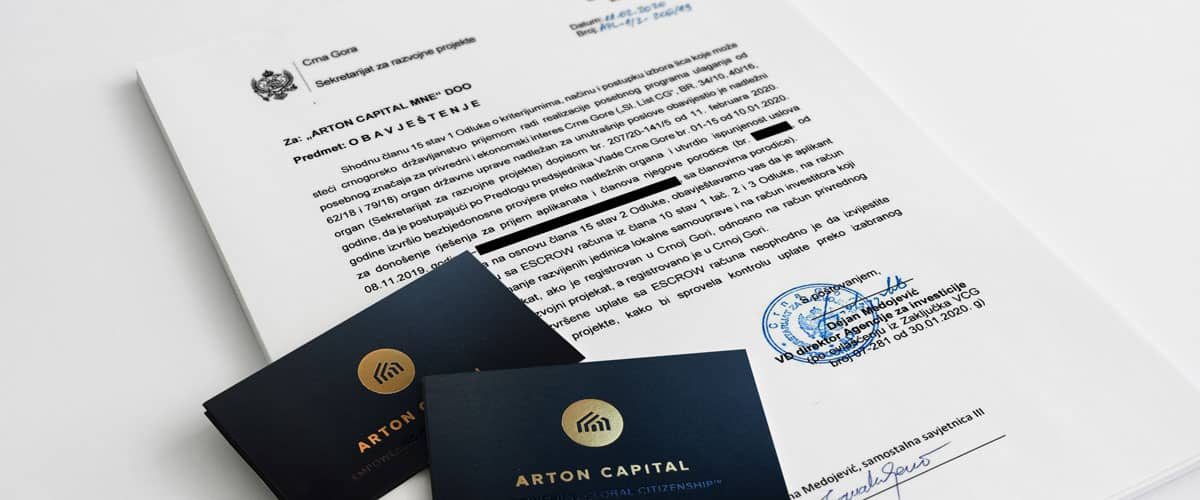 Arton Secures Montenegro's First Citizenship by Investment Approval
Investor and family overjoyed to become the first citizens under Montenegro's Citizenship by Investment Program.
February 11, 2020, Podgorica – Today, the government of Montenegro issued the first citizenship approval under its new Citizenship by Investment Program only 3 months after file submission.
"We were excited to submit the first ever application under the new program and we are humbled to obtain the first approval for a client of ours as well," shared Armand Arton, Founder and President of Arton Capital.
With many other applications in the pipeline, this approval clearly depicts the government's commitment to an efficient yet thorough process. Only 95 days after file submission, investors can apply for their passports.
The approved investment was made with the Westin Hotel Kolašin, which was the first available project under the program. Since then, new real estate projects have laid their foundations in the north, including the luxury 5-star hotel and spa, Hotel Breza.
For investors seeking mobility, security, and increased quality of life, Montenegro's Citizenship by Investment Program is one of the most exciting options towards securing a brighter future for their families and better opportunities for their businesses.
"Montenegro is not only the most affordable option in Europe, but it is also filled with many diverse opportunities," shared Milos Stojanovic, Managing Director of Arton Capital Montenegro. "The nation is booming, and many investors are at ease knowing what tremendous value a Montenegrin citizenship will hold for the years to come," added Stojanovic.
This was indeed the case for this first investor, who selected Montenegro's program as the most suitable option to provide his family with a prosperous and safe future. Montenegrin citizenship can additionally be extended to family members and can be passed on to future generations by descent, making it the ideal pick for any investor seeking lasting benefits.
The investor and his family hail from Egypt. With a new Montenegrin citizenship, the family will now add 73 more nations to their original Mobility Score of 61 for a combined Personal Mobility Score of 134, as measured by the Passport Index the global mobility intelligence platform. The family will not only reap the many local benefits and experiences that Montenegro has to offer but will also enjoy frictionless mobility to over 134 countries.
As one of the fastest growing economies in the region, the foreign direct investments that continue to fuel the nation's economy bring additional resources to both the local community and to Montenegro for the years to come.
It can be thought of as the investment that grants nearly-instant advantages that continue to resound from one generation to the next.
3 months well worth the wait, for a lifetime of benefits.
---