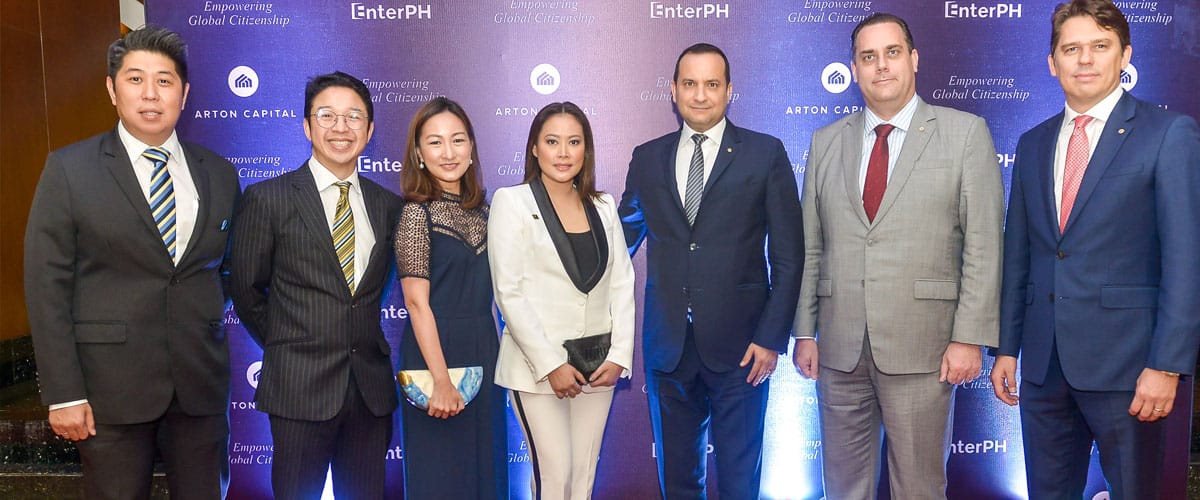 Arton certifies new partner EnterPH as it gains foothold in Asia
Posted on

Jan 16, 2019

In Arton
Arton Capital and EnterPH will be presenting the benefits of global citizenship and comparing the investment programs for second residency and citizenship-by- investments in North America, the Caribbean and Europe, at an exclusive event on Friday January 18, at the Grand Hyatt Manila.
Arton Capital empowers individuals and families to become global citizens by investing in second residency and citizenship in countries including Canada, United States, Antigua and Barbuda, Portugal, Bulgaria, Malta, upcoming Montenegro, amongst many others. Through a bespoke service experience, the Canadian financial advisory firm's global operations have attracted more than US$4 billion in foreign direct investment in the last five years. Arton Capital is the trusted partner and expert to 11 governments around the world.
"The Global Citizenship movement is quickly gaining popularity around the world," said Armand Arton, founder and president of Arton Capital. "An investor can opt for a program to acquire a second citizenship, ranging from US$100,000 to US$2 million depending on where they decide to invest. With a second passport, investors and their families can secure a brighter future, freedom of mobility, financial security and a higher quality of life."
In the Philippines, Arton Capital's new certified partner EnterPH, a business consultancy firm co-founded by Atty. Rocky Chan and Consul Rene 'RJ' Ledesma, Jr. of Monaco, specializes in investor relations and helping companies conveniently establish an enterprise in the Philippines.
EnterPH's services include business registration, product registration, accounting, payroll, staffing, tax consulting, and HR consulting.
"With the growing number of Philippine companies entering business in different parts of the world, we are very honored to work with Arton Capital to empower Filipinos with the flexibility and mobility to become global citizens," said EnterPH President Atty. Rocky Chan.
The partnership between the two firms promises well for future clients who can expect the best of both worlds. Arton Capital brings its wealth of international knowledge and experience to the table, while EnterPH possesses a mastery of the local business landscape.
Both an entrepreneur and philanthropist, Armand Arton has extensive background in serving the specialized needs of high net-worth investors around the world.  A staunch ambassador of the global citizen movement, it is Arton's mission to empower global citizens, and help shape a sustainable and responsible environment.
"We live in the age of global citizens," said Arton in a TEDx talk he gave recently. "As global citizens, the only boundaries we have are the way we see ourselves and the way we see each other."
Arton Capital takes its leadership position in the global citizenship movement seriously. The company curates the Global Citizen Forum, a platform that brings together visionaries and global leaders.
The company is also a founding member of the Global Investor Immigration Council (GIIC), a group whose mission is to establish best practices and foster sustainable and responsible industry governance; as well as a co-founder of the Global Citizen Foundation, which aims to contribute to the development of the next generation of leaders and enriching education policies worldwide.
"The place where we were born does not dictate who we are, where we can go, or what we can become. When we limit human mobility, we're restricting the use of one of the most important growth tools humanity has at its disposal," said Armand Arton.
---