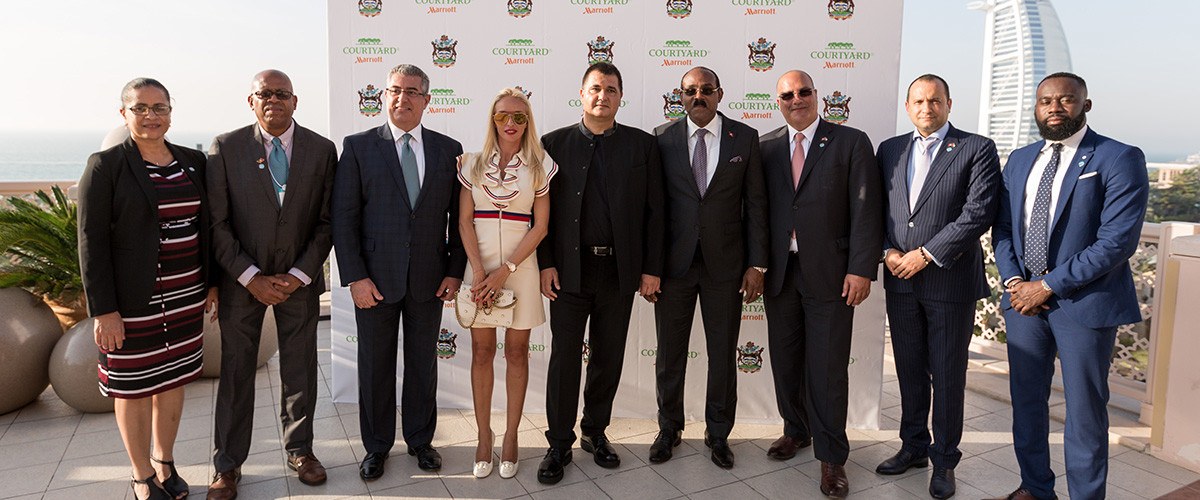 Marriott International Launches Antigua's First Business Hotel
Business travel to Antigua is booming
During a ceremony in Dubai, one of the world's leading business hotel brands, announced their construction of Marriott Courtyard Hotel in Antigua.
The ceremony held at Al Qasr Hotel, hosted key influencers in the project's development, including Antigua Prime Minister Browne, Mr. George Vassilev, Chairman of the Board of Directors of GP Group JSC, as well as Mr. Armand Arton, Founder and President of leading global financial advisory firm Arton Capital.
Scheduled to open in 2020 within the confines of VC Bird International Airport, this business hotel, in partnership with GP Group JSC and Marriott International, will boast 125 rooms, a luxury restaurant, casino, and surrounding leisure facilities.
"We have very high expectations for this exciting project," said Mr. George Vassilev. "Together with Marriott, and our renowned design and construction teams, we will work diligently to ensure the highest quality products and guest experience," added Vassilev.
According to Ibrahim Barghout, Marriott's Area VP Sub-Sharan Africa, Middle East & Africa Continent, "Marriott International is happy to partner with GP Group in bringing the Courtyard brand to Antigua. Courtyard is one of our most successful brands and one of the preferred brands for business travelers. With the location at the airport, I am confident that Marriott Courtyard Antigua will be as successful as our other Courtyard hotels." Prime Minister Browne also added that the Marriott Courtyard hotel is the perfect complement to his Government's plan to transform Antigua and Barbuda into an economic powerhouse within the Caribbean.
Arton Capital played a vital role in the negotiations of the development, which essentially brought the project to life. "We are very excited to have succeeded in bringing the latest hospitality investment to the region," says President Armand Arton. "After such a devastating hurricane season, it is important to see that investors still believe in the region and its potential." With increasing interest in the region's development and growth, and with the support of foreign investments, these islands will rise and regain their full brilliance once again.
The delegation of Antigua and Barbuda included Prime Minister Browne, Non- resident Ambassador to the UAE Gilbert Boustany, Ambassador Diann Black-Layne, Ambassador Brian Challenger and Mr. Tumasie Blair. Also representing the GP Group was its Head of Investor Relations, Anna Vassileva.
---