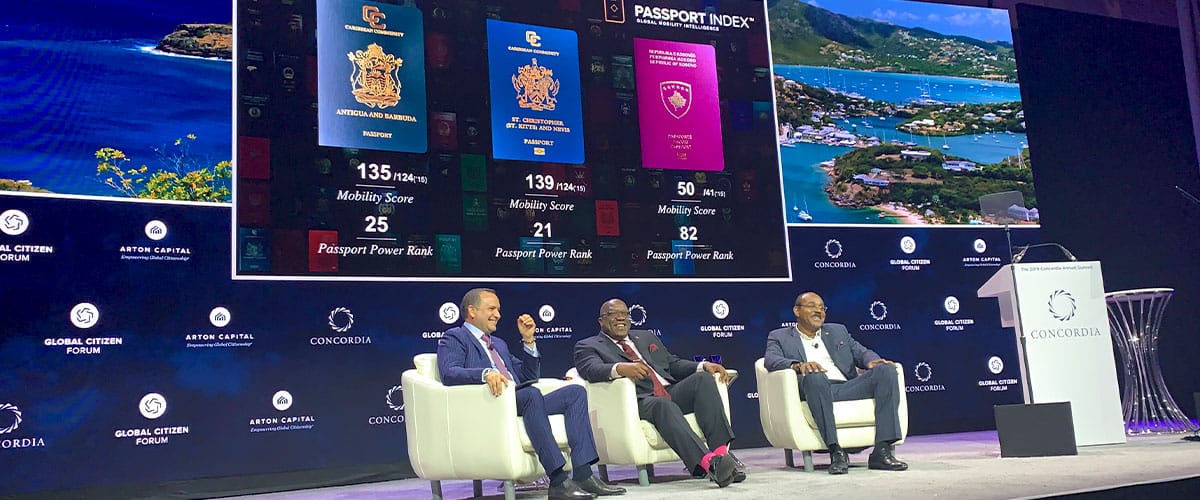 Arton Capital brings industry discussions to NYC during UNGA week
Armand Arton hosts a panel with Prime Ministers of Antigua & Barbuda and Saint Kitts & Nevis and a roundtable discussion for the benefit of the delegation of the Solomon Islands.
As the largest and most inclusive nonpartisan forum alongside the UNGA, the Concordia Annual Summit brings together decision-makers and opinion-formers to catalyze action through shared value approaches and social impact objectives. The two-day event in New York City, gathered the likes of Ivanka Trump, Her Majesty Rania Al Abdullah, H.E. Hassan Al-Thawadi, Cherie Blair, and H.E Andrej Babis, to name a few.
President of Arton Capital, Armand Arton, also took the stage during a plenary session to discuss the potential of global citizenship through the power of human mobility, alongside, H.E. Gaston Browne, Prime Minister of Antigua and Barbuda, and H.E. Timothy Harris, Prime Minister of St. Kitts and Nevis.
"5 billion of the world's population can only travel to less the 80 countries without a visa," remarked Arton in his opening statement, setting the stage for an intriguing discussion on the transformation of the passport from a mere travel document to a powerful policy and economic tool.
"Mobility is a socio-economic equalizer," said PM Browne, "When you have these artificial restrictions, these requirements, they serve as impediments to investment and trade, and more so, they serve as impediments for people to people exchanges."
"Everyone desires to move. And the more we create the ease of movement and facilitation for travel, everyone benefits from that." stated Prime Minister Harris.
The panel was followed by a roundtable on 'Best Practices and Industry Tendencies in Investment Immigration,' hosted by Arton Capital at the Baccarat hotel. Moderated by Armand Arton, the fruitful discussion aimed to identify the benefits of immigrant investor programs, encourage best practices, assess compliance and due diligence, and highlight the responsibility of stakeholders.
During the meeting, Hon. Gilbert Boustany, Ambassador of Antigua & Barbuda to the UAE, said that Citizenship-by-Investment Programs were essential to the economies of the Caribbean.
"CBI helps us provide opportunity for our citizens," he said. "Last year Antigua made more than US$100 million from its program. If these investments were stopped, how could we replace them?" The aim, according to ambassador Boustany, is to make sure that industry players communicate and collaborate better. "We should regulate our own niche industry."
Thomas Anthony, the former CEO of Grenada's Citizenship-by-Investment Unit, gave an overview of the market, pointing out that when the global financial crisis hit in 2008, foreign investment dried up for the region. The governments of Antigua & Barbuda, Dominica, Saint Lucia and Grenada, having observed the success of the Saint Kitts & Nevis program, separately launched their own programs.
"For Antigua & Barbuda, CBI has been a huge success," he said. "There are now more than 40 real estate projects. It is a similar story in Grenada, which has recently moved to encourage the development of 5-star branded hotels, including attracting the Kempinski Group and Six Senses to the island.
Francene Baron, Minister of Foreign Affairs of Dominica, which last year processed more than 2,000 applications, said that its program really took off in 2014 when the country acquired visa-free entry to Schengen countries, and increased its marketing efforts.
However, some speakers felt that more should be done to encourage countries to work more closely together. "There has been progress in the Caribbean in some regards, particularly when an applicant refused by one country used to apply to another," said ambassador Boustany. "That has been stopped."
Kim Marsh, with more than 35 years' experience in law enforcement and now a special advisor to Arton Capital, said that getting the right processes in place is essential for any successful program, and countries should work together to keep out undesirable elements.
Armand Arton pointed out that this industry collaboration should go wider than the Caribbean, to include Vanuatu and the Solomon Islands when their program launches.
Eric Schultz, former US ambassador to Tanzania and now an advisor to Arton Capital, gave the perspective of the United States. "The US is neither for nor against these programs," he said. "But they are concerned that they are managed properly, so the stakes are high, if you are going to do a program, do it right. But let's not forget the US has its own investor immigration scheme, the EB5. Many other countries, including the United Kingdom, Malta, Greece and Cyprus run their own schemes, so it would be hypocritical of them to be too harsh on other countries doing the same thing."
Armand Arton said that a passport is much more important than a mere prosaic travel document. Mobility is now a key component of good leadership and encourages citizens to travel but also to invest in their own countries.
The Passport Index, which monitors the visa free agreements in the world, shows that contrary to expectations, the world is continuing to open at about 3-4% growth rate. "If it continues at this rate to 2035, every citizen will be able to travel visa free to every country," he said, "and even though that means I'll be out of a job, my children will inherit a world where mobility is available to everybody, so it will be well worth it."
---