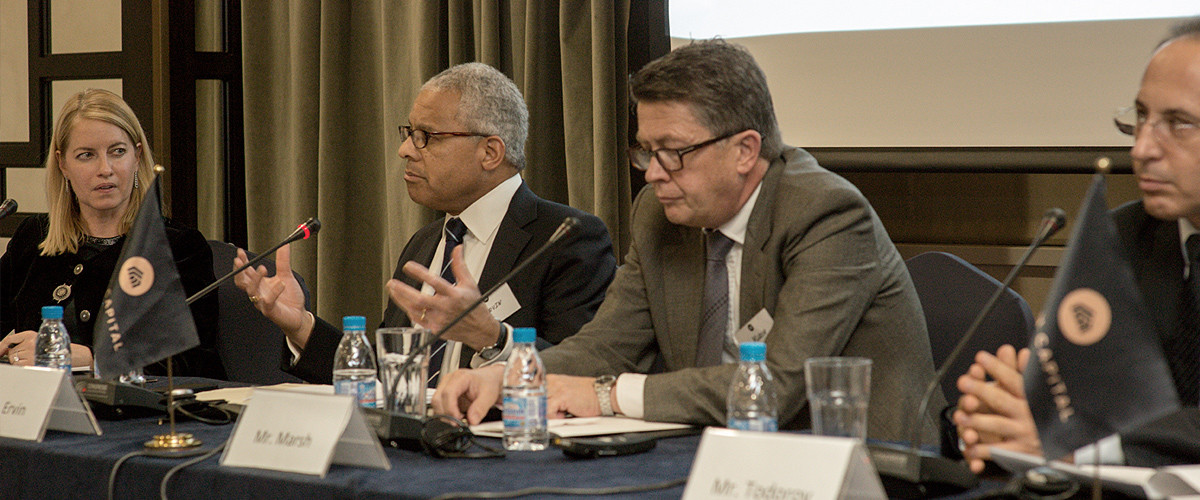 Boosting FDI to countries is a critical priority
Boosting FDI to countries is a critical priority
Security and transparency are the focus in the ongoing global debate on global citizenship programs
Sofia, Bulgaria, November 30, 2015 – Global Citizenship Programs (also known as Citizenship by Investment Programs (CIP)) are an effective and significant source of foreign direct investment (FDI) for countries around the world who employ them. With the increased popularity and attention to these instruments, related risks are becoming more evident.
Security and transparency around investor applicants are crucial, as they are for CIP programs. That was one of the key conclusions at the round table "Attracting Foreign Direct Investment and Enhancing Security and Transparency: Strategies for Europe", hosted by Arton Capital in Sofia, Bulgaria this week.
Some of the key dimensions, discussed during the event, were the role of Global Citizenship Programs in developing strong FDI strategies, the influence of US- and EU-related policies and regulations, potential opportunities for Bulgaria and the region, as well as challenges and opportunities for addressing a shifting landscape.
Among the key speakers were Mr. Clark Ervin – Director of the Aspen Institute Homeland Security Program and former Inspector General of the United States Department of Homeland Security, Mr. Kenneth Marsh, Executive Vice President International Operations of IPSA International, Mr. Stamen Yanev, Executive Director of InvestBulgaria Agency, Mr. Armand Arton – CEO and President of Arton Capital, Hon. Mario David – member of the European Parliament from Portugal, and Prof. Ivan Todorov – Managing Partner at Georgiev, Todorov & Co.
Mr. Yanev expanded on Bulgaria 2.0 Investment Strategy. According to him, "attracting investors requires engaging with key programs and discussing their benefits and a long-term commitment to ensure their success, in which process risks and benefits need to be balanced".
"The economic and social issues raised as a result of the [current] refugee crisis have a broader influence on immigration issues and indicate the need for further and better information-sharing policies and the importance of enforcing security standards in relation to migration in general," added Mr. Yanev.
Mr. David mentioned that although the programs are not regulated at the EU, but at national level, "some standardization around requirements could be beneficial to maintain common principles and best practices, which would lead to a greater degree of transparency." Mario David had also the chance to emphasize on his experience regarding EU-based CIP programs and FDI outlook, including that of Portugal.
Prof. Ivan Todorov commented on the future of CIP investments. According to him, "some legislative changes may be required to implement and fine-tune programs in the most beneficial way, ensuring a stronger degree of trust, mutual benefit and good will between legitimate investors and governments."
"Bulgaria should be wary of losing its relative competitiveness compared to others in the region who are moving towards CIPs equipped with the appropriate legal, regulatory and administrative tools in place", he added.
Mr. Clark Ervin talked over the security issues and the road to the U.S. Visa Waiver Program as another key aspect of the U.S. visa policy, "allowing free movement for citizens of those countries deemed lower risk" by the U.S.
Armand Arton outlined the highlights of the round table. "Governments and [the CIP] industry need to work closely to create a common framework for delivering sustainable investor programs where transparency and security are rudiment".
The role of investor programs will continue to grow globally and therefore it is of increasing importance that the industry seeks to establish common standards.
While Portugal managed to attract over US$ 1.5 billion, Cyprus – US$ 2.5 billion, Hungary – US$ 1.1 billion, Bulgaria did only US$ 54 million for the same period of time. "Unfortunately, Bulgaria is lagging behind with the implementation of key policies, which could have resulted in an unprecedented rise in FDI," added Arton. "Imagine what an extra billion can do for the Bulgarian economy and its people," concluded Arton.
About the event
The event, the first in a series of planned regional round tables curated by Arton Capital, has explored the link between attracting and sustaining various forms of foreign direct investment, including Citizenship by Investment Programs, and ensuring the conditions are ripe to derive the greatest economic and public benefits from such FDI strategies.
---