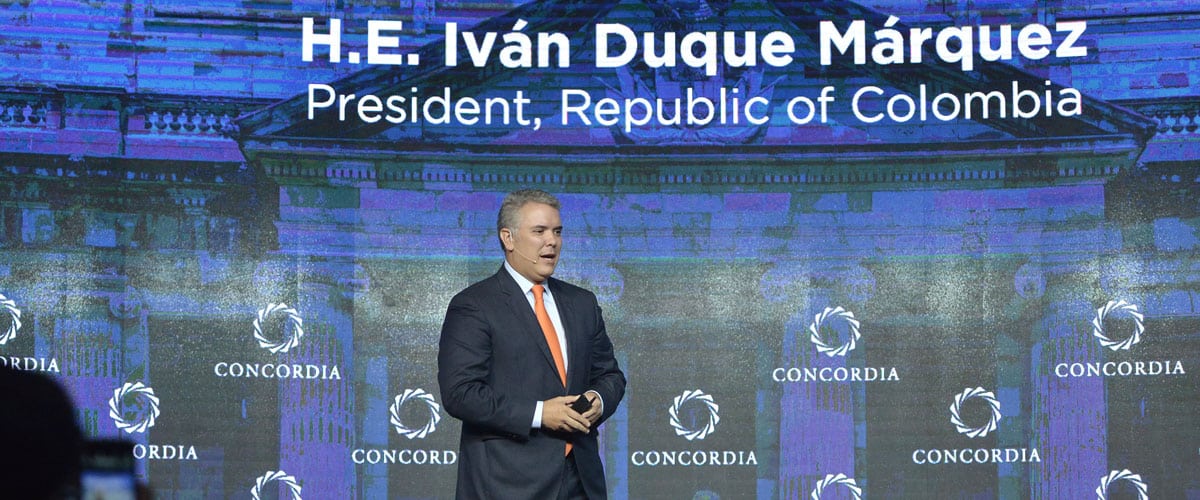 Arton Partners with Concordia Americas Summit
Explores CIP expansion to Latin America
Bogota, Colombia – Over 1,000 delegates gathered in the Colombian capital of Bogota on May 13-14 for the 2019 Concordia Americas Summit.
Arton Capital was thrilled to offer its support as a programming partner, where keynote presentations were carried out by the nation's President Iván Duque Márquez, Former President of Nigeria, H.E. Olusegun Obasanjo, and Secretary of Energy of United States of America, Rick Perry, amongst many other distinguished guests.
Bringing together world-renowned political leaders, business innovators, and global non-governmental representatives, the Concordia Americas Initiative served as one of the first international platforms to raise awareness about the Venezuelan humanitarian crisis and has since become an international platform to address immediate humanitarian, economic, and political issues impacting the Western Hemisphere.
The main topics of interest this year were Venezuela's ongoing political and humanitarian crisis, Latin America's status as the globe's next hub of technological innovation, and topics of Global Citizenship, including migration, cross-border security and mobility.
Although Latin America has grown on a global scale as a diverse and appealing destination for investors who want to expand globally, their regional mobility and passport power still has room to grow. According to the Passport Index, the leading ranking platform for the world's passports, not a single Latin American passport made the list for the top 10 most powerful passports. Starting at the 12th rank, Chile, Brazil, and Argentina all hold a Global Mobility Score of 157.
There is however a push by the national governments of many Latin America nations such as Chile, Mexico, Peru, and Brazil to be more involved in global markets, suggesting that Latin America is very welcoming of international investors.
Arton Capital's global expertise in advising 11 governments on attracting foreign direct investments is evaluating the increased interest in bringing the Citizenship-by-Investment industry to Latin America and on their desire to improve the power of their passports.
Colombia remains as one of the most popular regions in Latin America in regard to investment, with the nation seeing steady economic growth and development over the past decade. As the youngest elected president in Colombian history, President Duque has the potential to establish a lasting impact on the nation.
With Colombia's modernizing government and decisions to be made on the long-term outlook for the country, a cooperation framework on energy issues was established during the 2019 Summit between Colombia and the United States, which will allow the development of cooperation activities that will seek to promote, mainly, energy transformation.
All to say; the future looks bright in the Americas!
---