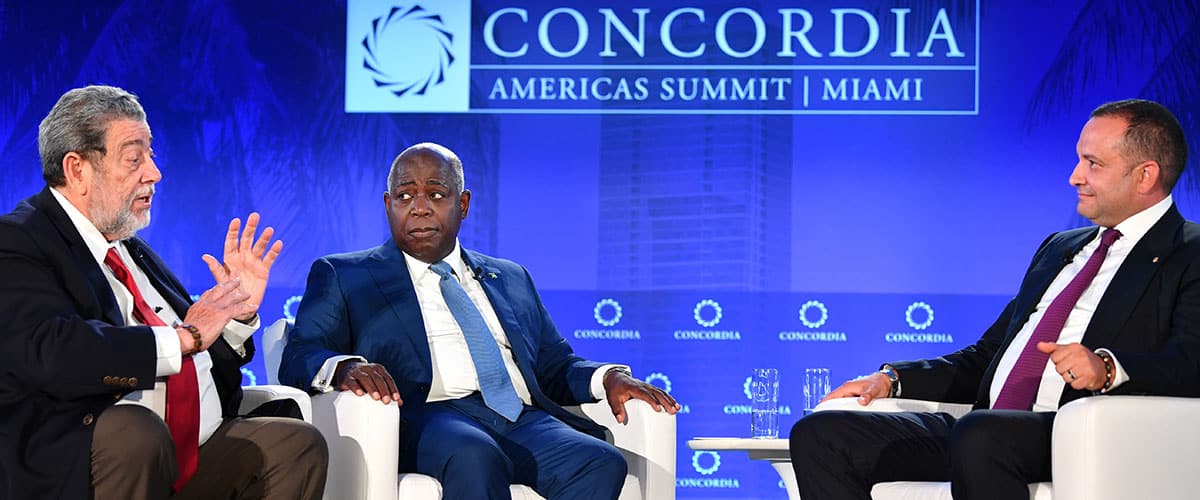 Arton hosts Caribbean panel at 2022 Concordia Summit on the Americas
At the influential annual summit, held in Miami on July 13-14, two prominent Caribbean leaders joined Armand Arton to discuss regional collaboration in the face of global existential challenges.
On July 13-14, the Concordia Regional Summit on the Americas brought together prestigious speakers and delegates in Miami to discuss the challenges and opportunities in the Western Hemisphere. Now in its sixth year, the highly respected summit is one of several annual events hosted by Concordia, a non-profit promoting partnerships between governments, businesses, and nonprofits to solve global issues.
Armand Arton, the founder of the Global Citizen Forum and President of Arton Capital, joined notable speakers and world leaders at the summit, where he hosted a panel on the importance of regional cooperation in advancing investment and economic development across the Caribbean.
A longtime champion of globalization and freedom of mobility, Arton moderated a candid conversation between Philip Davis, Prime Minister of the Commonwealth of the Bahamas, and Ralph Gonsalves, Prime Minister of Saint Vincent and the Grenadines, in which the leaders discussed everything from the benefits of the CARICOM-Caribbean community to existential threats like climate change, modernizing their economies and navigating a world order that's stacked against them.
Speaking up as 'one voice'
Arton's conversation with Prime Ministers Davis and Gonsalves began with reflections on the COVID-19 pandemic. Both leaders expressed frustration with the industrialized world, which they felt hoarded vaccines and governed the rules for recovery.
"What one thing the pandemic exposed to me is that many of the developed and industrialized countries were not as sensitive as they ought to be to Small Island Developing States such as ours," said Davis. "That even heightened the need for us, Small Island Developing States, to be more cooperative and engaging with one another – to be able to be one voice to the larger voices of the world."
Davis says the CARICOM-Caribbean community, which currently has 20 member countries with a combined GDP of about US$82-85 billion, has become essential in addressing the unique challenges facing small island states. For example, Gonsalves said CARICOM's Caribbean Public Health Agency enabled the region to fight COVID-19, while the Seismic Research Center in Trinidad made it possible to address the La Soufrière volcanic eruptions in 2021 more effectively.
"We need to respair – it means 'fresh hope'. It goes beyond the matter of just building back better or stronger," says Gonsalves. "Because after periods of immense dislocation, of convulsions and even despair [like the pandemic], you have to have a new frame of reference, but that cannot be national. It has to be a regional one. You have to look outward."
'The carbon sink of the world'
Regional collaboration has helped many small developing island nations get back on their feet. Yet, for many, the international restrictions have exacerbated problems and slowed progress.
"We are very often disappointed by global forces and external shocks that are beyond our control," said Davis, alluding to a regulatory crackdown on Bahamas' financial services. "Globally, our financial services were assaulted by the OECD and other forces, FATF [Financial Action Task Force], and we survive by continuing to be innovative and creative and attempting to stay ahead of those forces."
In a bid to think ahead, Davis has transformed the Bahamas into a leading hub for cryptocurrencies, which he hopes will provide a new revenue stream to offset losses caused by climate change. "The Bahamas is among the 10 most vulnerable countries in the world to climate change. Our islands could disappear within the next 30 years. So the effort to reduce the carbon footprint is a crisis for us."
Even though the country does not emit substantial carbon emissions, it absorbs many of the consequences. "We are one of the major and significant carbon sinks of the world. We have been collecting the garbage because of our seagrass and mangroves, but we aren't being paid for it," he says. "I can say unequivocally that 50% of our debt is a result of climate change… But all we have [from developed, industrialized nations] are pledges. I'm pledge-fatigued."
Space to thrive
According to Gonsalves, CARICOM is seeking a paradigm shift toward a modern, multifaceted post-colonial economy with unlimited skilled and educated workers and no reliance on market preference or subsidies.
"To achieve this, we have to be in a world where there's fairness," he says. In addition, Gonsalves laments the eligibility criteria for concessionary assistance and financing (below market rate financing typically provided by non-governmental bodies to spur development). Usually, such funding depends on the size of a country's per capita GDP to determine.
However, since small developing island nations tend to have fragile economies vulnerable to external economic shocks and environmental disasters, Gonsalves believes middle-income countries should have access to concessionary financing.
"For middle-income countries, we need to have an MVI – a Multi-Dimensional Vulnerability Index – so that you use different criteria for concessional financing," Gonsalves says, calling for a multilateral conversation on the issue. "We have serious 21st-century problems… and we need to address them in an objective manner. Unfortunately, men's minds are still weighed down from the ghosts of the past, and we use them to govern the present."
Both leaders hope to share a message through their conversation with Arton: a better future for all requires an earnest commitment to fairer and more equitable systems. "We have to allow Small Island Developing States to have the space within the global system, not just to survive but to thrive," says Gonsalves. "I am not asking for special privileges; I am asking for fairness and reasonableness to give my people a chance to grow and develop sustainably."
Davis concurs, urging greater collaboration and communication among all nations as equals. "The time has come to dismantle the ghosts that haunt us and continue to dialogue – dialogue with those we disagree with is perhaps more important than having a dialogue with whom we always agree."
---