Popularly known as "The Spice Island", because of the myriad locally grown spices, Grenada offers one of the most picturesque waterfronts in all of the Caribbean. The sublime scenery is but one of the many enticements to visit the three beautiful main islands. Diving, sailing, excellent restaurants, fabulous beaches, and a calendar of unforgettable festivities add to the many reasons why Grenada has become preferred destination to many high net worth investors.
WHY CHOOSE GRENADA?
Officially the newest of its kind in the world, the Grenadian Citizenship-by-Investment Program provides the following prime benefits:
Fast processing within 4 months;
Inclusion of dependent children under 25 years;
Inclusion of dependent parents above 65;
No physical residency requirements;
No requirements to travel to Grenada during the application process;
No interview, education or management experience required;
Visa-free travel to over 100 countries including Europe's Schengen zone
E-2 treaty 'Investor Visa' signed between Grenada and the United States allows citizens of Grenada to operate a substantial business in the U.S. and reside therein;
No tax on worldwide income.
Furthermore, Grenada recognizes dual citizenship, therefore you can still benefit from your current citizenship status.
QUALIFICATIONS
The newest Economic Citizenship Program, Grenada's Pilot scheme will allow qualified investors and their family members to apply for citizenship and benefit from facilitation of visa-free travel.
The Grenada Citizenship by Investment Program was launched in 2013 under the regulations of the Grenada Citizenship by Investment Act.
In recent years, tourism has become the leading sector for foreign direct investments in Grenada. Another service sector on the rise is the offshore financial industry, which – together with strong performances in construction and manufacturing, have also contributed to growth in national output.
As part of their strategy to attracting foreign direct investment, the Grenadian Government is working closely together with a select number of businesses related to tourism, agriculture, and manufacturing. Through the implementation of the Citizenship-By-Investment Program, they also hope to create investment opportunities that will bring about sustainable employment.
The Program offers many benefits in exchange of several requirements that applicants must meet. To qualify for citizenship in Grenada, applicants need to fulfill one of the investment requirements outlined below, in addition to the following criteria:
Be of outstanding character;
Hold no criminal record;
Have excellent health;
Have a high personal net worth.
INVESTMENT OPTIONS
Real Estate
With its economy shifting from agricultural-dominant to service-dominant, one of the most viable options for foreign nationals is the investment in a pre-approved real estate project.
Mount Cinnamon
The development is situated on a lush hillside on almost two miles of the white-sand Grand Anse Beach, which is recognized by some as one of the most beautiful beaches in the world. The resort-hotel, looking towards the historic capital St. George's, sets the tone for an irresistibly elegant yet intimate, relaxed beach hideaway.
The investment must be minimum US$ 350,000 and must be owned and maintained for a minimum period of 4 years. An extra US$ 25,000 will be required for every additional dependent.
The opportunity to own shares of Mount Cinnamon is an invitation to become a citizen of Grenada, begin a long and fruitful relationship with the island and its culture, and contribute to its future.
NEXT STEPS:
ARTON INDEX SCORE
0
0

cost

0

speed

0

global mobility

0

quality of life

0

simplicity
---
Updated yearly, the Arton Index is an overall assessment and comparative benchmark of the country and its investment program.
---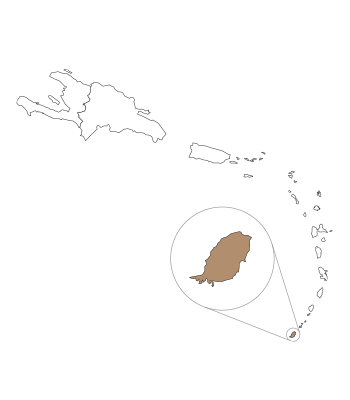 110,152
Population Growth: 0.50%
$13,800 (2013 est.)
GDP (per capita)
GDP (purchasing power parity)
$1.458 billion (2013 est.)
115
Visa free countries
---
LOCATION
Caribbean, island between the Caribbean Sea and the Atlantic Ocean, north of Trinidad and Tobago
CAPITAL
Saint George's
DIFFERENCE
UTC-4
TOTAL AREA
344 sq. km
AGE DEMOGRAPHICS
0-14: 24.5%, 15-24: 16.5%, 25-54: 40.3%, 55-64: 9.2%, 65+: 9.2%
LANGUAGE
English (official), French patois
RELIGIONS
Roman Catholic 53%, Anglican 13.8%, other Protestant 33.2%
GOVERNMENT TYPE
Parliamentary democracy and Commonwealth realm
CURRENCY
East Caribbean dollars (XCD), tied to USD
EXCHANGE RATE
1 USD = XCD 2.70 (2012)