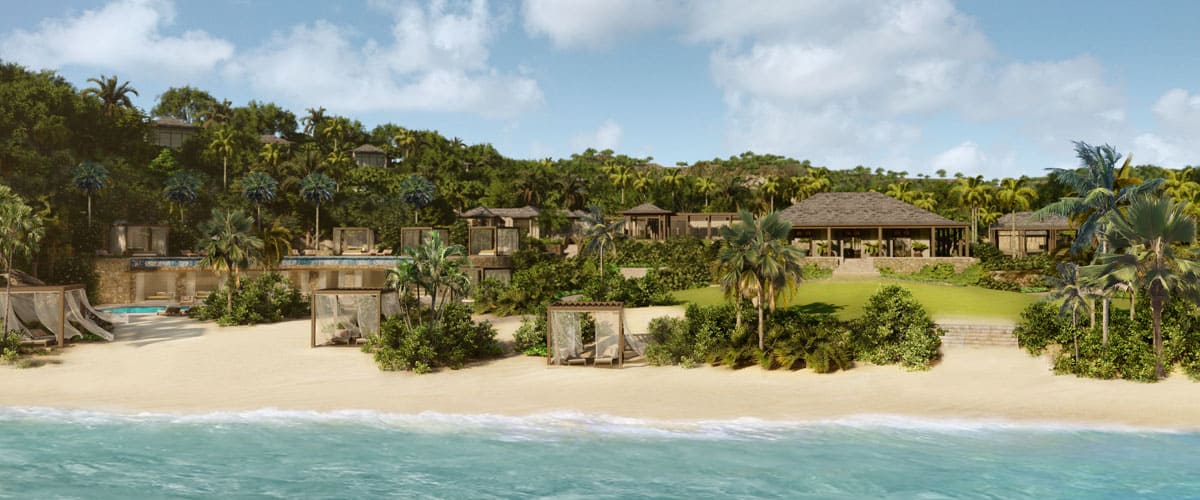 Rosewood Half Moon Bay to Begin Construction This Summer
Investors are looking closely at one of the Caribbean's most anticipated resort developments.
Antigua's many picturesque harbours coupled with its leading yacht-racing event, Sailing Week, have made the blissful island one of the most endearing escapes for the ultra-high net worth (UHNW) population. And it's about to get even more lavish.
Located adjacent to a 27-acre national park amongst the backdrop of one the most spectacular white sand crescent beaches, Half Moon Bay Antigua is set to begin construction this summer 2019 under the Rosewood Hotels and Resorts 'A Sense of Place' brand. And creating one-of-a-kind properties in the most desired destinations can only be the work of acclaimed Canadian property development company, Replay Destinations.
Replay's proficient team, headquartered in Vancouver, were behind some of the most timeless luxury resorts and residences in the world, such as Mont-Tremblant Resort in Quebec, and One Ocean on Paradise Island Bahamas.
What makes Rosewood Half Moon Bay even more attractive to the affluent UHNWI, is that the project qualifies under the pre-approved real estate investment option for Antigua and Barbuda's Citizenship by Investment Program. The program, which offers investors a unique opportunity to immerse in an oasis of luxury, all while securing a brighter future for their family, takes only 3-4 months to process.
Ranking in 24th place, Antigua and Barbuda's passport allows visa-free entry into 133 nations, including France, Germany, Singapore and the United Kingdom. In addition, Antigua and Barbuda recognizes dual citizenship, which can prove to be extremely advantageous for business expansion and tax relief.
Set to launch in 2021, Rosewood Half Moon Bay Antigua will offer an unparalleled setting for what will be the most sought-after resort and residential community in the Caribbean. Are you ready to dive into the paradise oasis that has international guests and potential real estate investors beaming with interest? Here's a sneak peek of what's to come! 
---