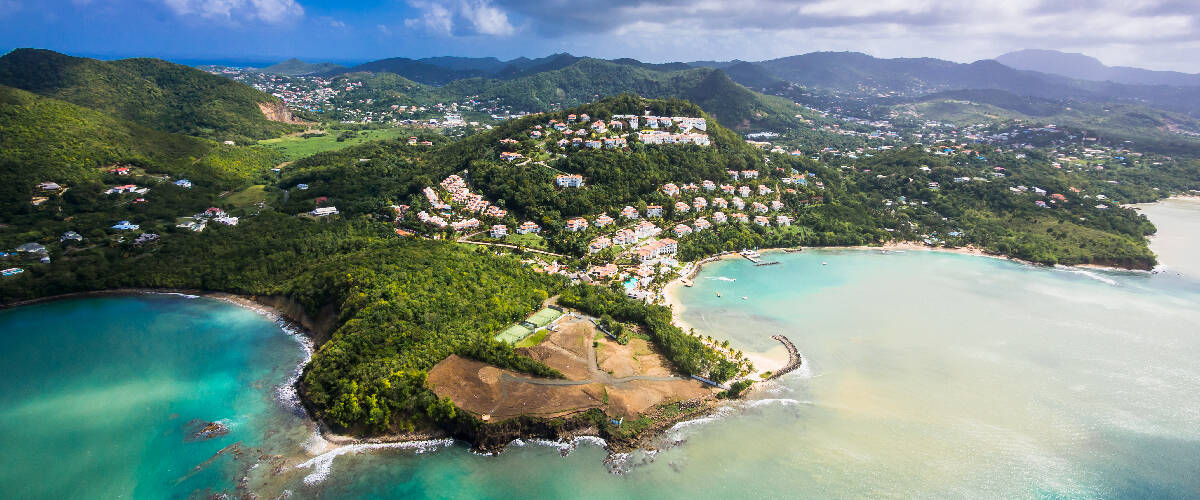 Saint Lucia – The Jewel of the Caribbean
Feel the soft water-soaked sand on your feet, shimmering under the golden afternoon sun. The sublime blue sea, glistening like diamonds, brings in a soothing breeze that embraces you. White foamy waves ripple gently and the air is perfumed with the scent of salty seawater. You are in a tranquil abode; you are in Saint Lucia.
An Alluring Retreat
The jewel of the Caribbean Sea, Saint Lucia is a paradise island known for its breath-taking coastlines, pristine beaches, and pleasant tropical weather. The mesmerising lush green Pitons tower majestically over the horizon, and the dense rainforest blankets the landscape in a magical emerald green. Golf courses, sports stadiums and luxury resorts abound, and the vast sea rings with a warm invitation, calling you in to sail through its waters.
When the sun starts to set, veiling the sky in star-lit darkness, Saint Lucia's bustling nightlife emerges. Energy envelops Rodney Bay Village, as young souls sing, dance and indulge in authentic delicacies. At the Friday Gros Islet Street Party, people down pints of Piton beer at table-top bars, arts and crafts vendors lay out their stalls, and the village pulses with lively music till dawn.
Invest, Build and Grow
While Saint Lucian citizens enjoy increased global mobility, the country has much more to offer beyond the passport. Once a single-crop agricultural economy, Saint Lucia now boasts a booming tourism industry, attracting close to a million visitors annually. A strong international banking sector and an expanding manufacturing infrastructure make the country ripe with opportunities for business. Saint Lucia has no taxes on global income, inheritance or capital gains, making it highly favourable for tax optimization. And with excellent air links to North America and Europe, the country is also well connected with the rest of the world, despite its remote but heavenly location.
As a member of the United Nations, CARICOM and OECS, Saint Lucia is a safe, peaceful and stable country for families to reside in. The Education Act provides free education for children between the ages of 5 to 15, who can then go on to attend the prestigious University of the West Indies. While modest in its geography, the country is also home to about 40 different healthcare facilities and a world-class public healthcare system.
Citizenship by Investment
In 2015, Saint Lucia opened its borders to foreign investors, granting full citizenship in exchange for an economic contribution to the country. The diverse range of available investment options arguably make it the best-positioned citizenship by investment program in the entire Caribbean.
"Rising costs of living, talks of a looming global recession and increasing political instability have made our outlook bleak and uncertain. Saint Lucia considers it a duty to help those impacted by unfortunate circumstances and offer a way out. Through the gift of global citizenship, we're proud to provide people access to a better lifestyle and the opportunity to build a brighter future for their families," shares Mc Claude Emmanuel, Chief Executive Officer, Citizenship by Investment Unit.
Offering a swift processing time of under 3 months, Saint Lucia's CIP is one of the fastest paths to second citizenship in the industry. The program's minimal requirements make the application process exceptionally seamless and simple – investors are not required to travel to Saint Lucia during the application process, and do not need to interview, or provide any educational or managerial experience.
With visa-free access to over 135 countries – including the Schengen Area, United Kingdom, Hong Kong and Singapore – the powerful Saint Lucian passport expands global mobility substantially, allowing citizens to travel anywhere, anytime. Saint Lucian citizens can also apply for B1 or B2 visas to the United States, through which they can reside in the country for up to six months per year.
With its recognition of dual citizenship, no tax on worldwide income or physical stay requirements, Saint Lucia's CIP is especially advantageous for those looking into business expansion and tax relief.
Expand your horizons, discover possibilities unthought of, and live a life of luxury in one of the most alluring destinations in the Caribbean; Saint Lucia is your gateway to a world of opportunity. Embark on a journey towards the unimagined and let her inspire you.
---