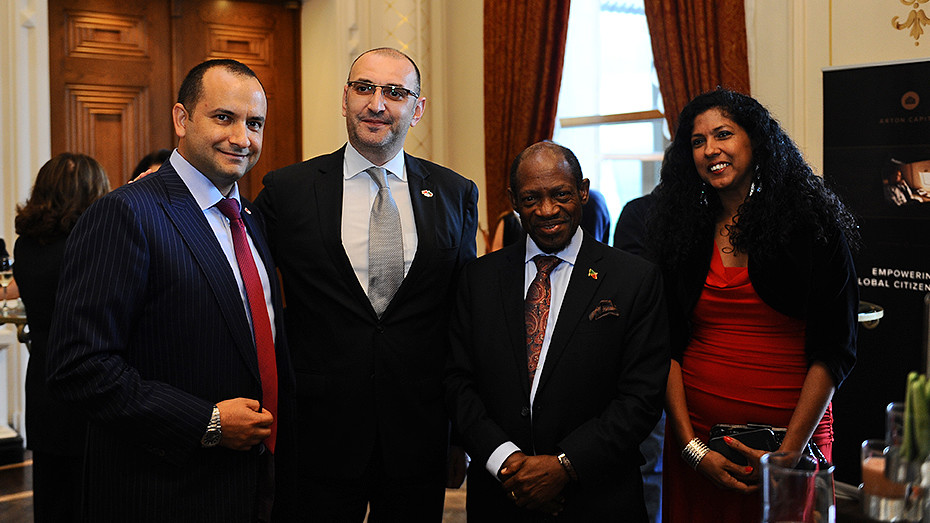 Foreign Citizenship made easy for Turks
Arton Capital, a leading global citizenship advisory partners with local experts at Sen International to bring bespoke services to Turkey.
05 June 2014, Istanbul – Hon. Dr. Denzil Douglas, Prime Minister of St. Kitts & Nevis, and Hon. Sergio Marchi, Former Minister of Citizenship and Immigration of Canada and member of the Global Council of Migration with the World Economic Forum inaugurated the launch of Arton Capital's operations in Turkey at a gala dinner co-hosted by Arton Capital and Sen International at the Kempinski Ciragan Palace Hotel in Istanbul.
At this occasion, close to 100 of Istanbul's elite were personally welcomed by Mr. Armand Arton, President and CEO of Arton Capital, and Mr. Mazlum Sen, President of Sen International as they celebrated the starting of their joint venture. "The launch of this partnership between Arton Capital and Sen International in Istanbul further demonstrates the group's commitment to a closer and more collaborative relationship with high net worth individuals in Turkey, and to helping more individuals to realize their dream of becoming a global citizen," says Hon. Sergio Marchi.
Accomplished through a high-end service experience, designed to simplify complexity and support sustained long-term relationships, Arton Capital has become a global leader, specializing in investor programs for residence and citizenship empowering individuals and families to become global citizens. Arton Capital's establishment in Turkey is an answer to the growing demand for second citizenships throughout some of the world's fastest growing economies, including the Gulf countries and Turkey. In a recent report published by Wealth-X and Arton Capital entitled "A shrinking world: Global citizenship for UHNW individuals", showcases that as the number of HNWI rises, so will the demand for second residence and citizenship. "We are extremely delighted to partner with Arton Capital, and to offer our clients a more diversified portfolio of products and services, while still keeping our intimate familiarity with the local culture, lifestyle and regulations. Our honesty and professional approach have made us the leaders in this field in Turkey", says Mazlum Sen.
"In the last decade, the global movement of people has intensified, diversified and has become truly universal. Many high- and ultra-high-net-worth individuals are seeking a second residence or citizenship for themselves, their children, and their families. More and more wealthy individuals are exploring immigrant investor programs due to the increased financial flexibility, security and investment options they can offer them. Owning a foreign passport has become a necessity in today's turbulent times." adds Arton.
A variety of global citizenship programs are available through the strategic partnership. Successful citizenship-by-investment programs in the Caribbean region have grown in popularity due to their flexibility. "While [these programs] are a good alternative for investors coming from politically and economically distressed regions, recently it has become clear that a revision of their structure is required", says Arton, "which is why, we are currently working on a white paper with prominent industry stakeholders to propose actions that will enhance the best industry practices in the Caribbean."
Europe, on the other hand, is represented mostly by the classic investment programs that lead to citizenship through residence. Whether it is investment in government bonds, real estate, or business, the qualifying applicants and their families have to maintain their residency status for a certain number of years, before being allowed to apply for citizenship. "Bulgaria, Hungary, Portugal, Spain, and the UK already operate such programs in the EU" Arton added.
"Many business people who travel regularly can be restricted by their passports on an international scale – Arton Capital's main focus is to introduce them to citizenship programs that are tailor-made to their lifestyle", concluded Sen.
Photo caption: From left to right: Mr. Armand Arton, President & CEO, Arton Capital; Ms. Giselle Tavilson, acclaimed violinist; Mr. Mazlum Sen, President of Sen International.
###
About Arton Capital
Arton Capital empowers individuals and families to become Global Citizens. As a global financial advisory firm, specializing in investor programs for residence and citizenship Arton plays a critical role in helping governments, consultants, legal and financial professionals and investors to meet their goals quickly, efficiently and more effectively. As an industry leader, Arton Capital curates the Global Citizen Forum, where delegates, government representatives and industry patrons meet annually to further the development and promotion of global citizenship. Through the Global Citizen Foundation, Arton gives a chance to current global citizens to inspire and empower the future generation. Arton's global operations are spread in over 10 offices around the world and oversee in excess of US $1 billion investments in Global Citizen programs. Arton Capital is a member of The Arton Group, which comprises of fully licensed banking, financial advisory and investment consulting companies tailored to the needs of global citizens.
About Sen International
Founded by Mr. Mazlum Sen, member of Istanbul Law Society and of the Canadian Society of Immigration Consultants, Sen International is a team of professionals, who have over 19 years of first-hand experience in the Turkish market, given unparalleled service to those who wish to settle in a new country or to obtain a second citizenship. Thanks to the team's intimate familiarity with the culture, lifestyle and laws, Sen International is able to guide clients smoothly and efficiently through the often-complicated processes. For more information, visit www.sen-international.com.
For Media enquiries, please contact:
[email protected]
T +1 855 935 6665 (North America)
T + 971 4 319 7665 (MENA region)
T + 359 2 439 1464 (Europe)
---