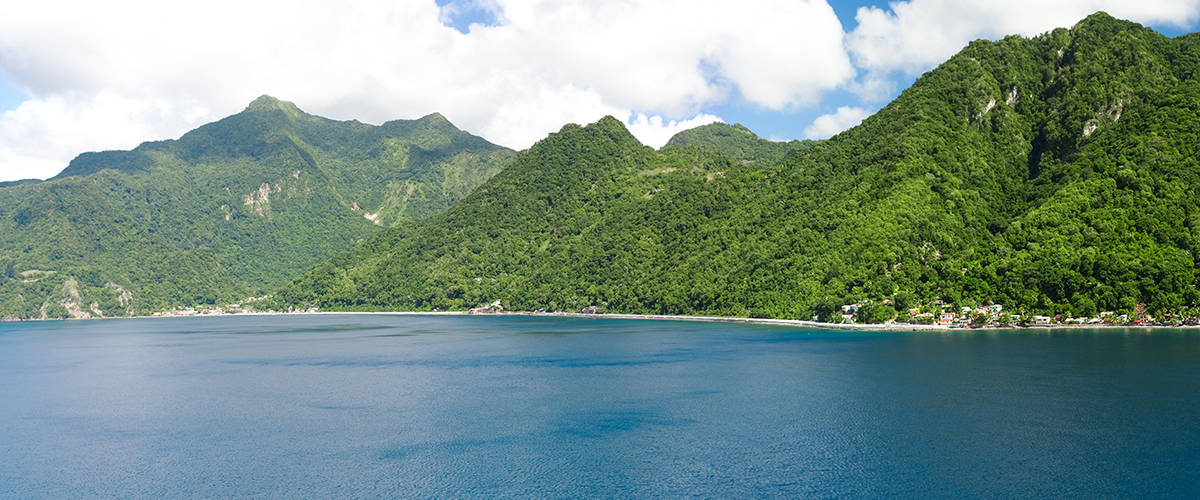 Dominica to Announce CIP Changes to Reunite Family Members
Global Citizen Webinar Series – June 23, 2020 — Dominica's Citizenship by Investment Program took center stage at the Global Citizen Series this week, which saw over 200 participants from 66 countries, and was led by Honorable Roosevelt Skerrit, the Prime Minister of Dominica and H.E. Emmanuel Nanthan, Head of Dominica's Citizenship by Investment Unit (CIU).
Internationally renowned as the 'Natural Treasure' of the Caribbean with its pristine sandy beaches, acres of unspoiled tropical rainforests, and some of the best diving and hiking in the Caribbean, the biggest question was if the evident lack of tourism has impacted Dominica and when its borders are expected to reopen.
"Luckily for us we have a more diversified economy," responded Prime Minister Skerrit. "Although we do rely on tourism, we have a greater economic mix with agriculture which plays a critical role in Dominica's foreign exchange and revenue."
He shares that once borders reopen, the country has all the proper protocols prepared to ensure their citizens and visitors feel comfortable and are safe.
Skerrit also mentioned that from the time Covid-19 appeared, Dominica increased its agriculture cultivation to help ensure food security for other islands the region.
Dominica has continuously strived to make a significant impact on building the nation's economy, increasing infrastructure durability, and changing the lives of the people in their community, which has been highly reflective with the government's outlook on dealing with the global pandemic.
"We are not daunted by these challenges," states PM Skerrit. "We are looking at opportunities."
He shared that since the Covid-19 pandemic, Dominica started "moving heavily into digital economy and ensuring technology is widely accessible."
"We are pushing heavily in new areas so our economy can become more resilient and withstand these external shocks in the future," he shares.
CIP Impact on Dominica
Dominica's Citizenship by Investment Program plays a vital role in empowering its bright future. "I am a strong advocate for CIPs. Not only in Dominica, but globally," shared Prime Minister Skerrit.
"From an ideologic standpoint, I am personally happy that a small nation like Dominica can make a contribution to humanity. Many people rely on programs like ours to be able to move freely and provide security for their family and a better future for their children."
He also shares that from a financial standpoint, "CIPs are a very critical and important instrument. Over the years, even the World Bank and the IMF have taken notice of their importance, especially during challenging situations like the current pandemic. It is a very resilient and robust industry."
The program has been instrumental in helping Dominica pay off a big part of the island's national debt, building public infrastructure including hospitals and establishing health systems, building roads and bridges, investing in tourism and agriculture, and has also played a vital role in funding the construction of over 5,000 climate resilient homes.
It is becoming more and more evident that these Citizenship and Residency programs offer incredible benefits to host nations and enable much-needed contributions for their country and citizens.
Dominica's Passport Power
In return of making an investment in Dominica, investors are granted something invaluable: the freedom of mobility.
Prior to the temporary travel bans due to the pandemic, Dominica's passport held a Mobility Score of 140, up from a 119 MS in 2017.
"You will see a number of visa-free countries in the coming months," shares Skerrit.
"Most recently, we have signed visa agreements with the Russian Federation and have also concluded negotiations with the People's Republic of China which will come into effect by the end of 2020," he states.
"We will also be introducing new biometric passports within the next few months."
The Prime Minister also announced that Dominica intends to open Consulates in a number of countries around the globe to further strengthen international relations and increase their diplomatic presence.
Changes to the Program
"The family unit forms the basic fabric of our social structure in Dominica, and as such we do our best to ensure we enhance family experience," shared H.E. Emmanuel Nanthan.
Over the years, the investment options in Dominica's CIP have made attentive adjustments to include senior dependents within the application, as well as decreased investment amounts to include spouses.
"We understood that a number of our citizens wanted to extend the program to the rest of their family and keeping the family unit together is very important to us, so we will be announcing changes and modifications to allow broader scope of dependents," stated Nanthan.
"These changes are part of who we are – in terms of being responsible and sensitive to the needs of our investors," he shared.
"The family unit forms the basic fabric of our social structure in Dominica, and as such we do our best to ensure we enhance family experience."
Since the Covid-19 pandemic, Arton has hosted highly successful weekly webinars to engage and inform the market of the latest updates directly from Prime Ministers, Ministers of Foreign Affairs and heads of Citizenship by Investment Units.
Discover more about Dominica's new changes, here.
---