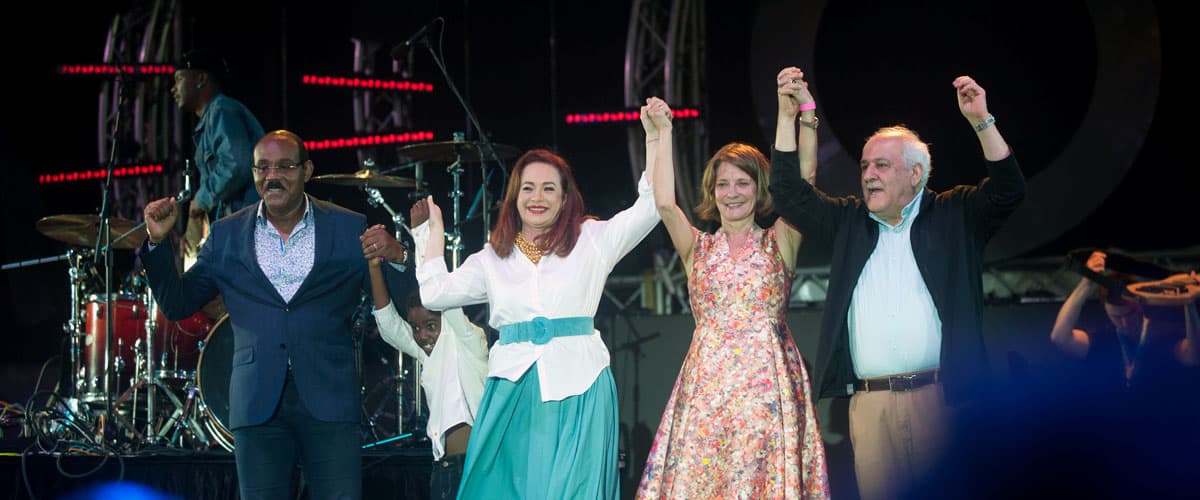 Antigua and Barbuda Sign Historic Environmental Declaration
Arton Capital partners with the United Nations President of the General Assembly, and the Governments of Norway and Antigua and Barbuda to host awareness concert to end plastic pollution.
Antigua and Barbuda was selected by the United Nations General Assembly to host the first ever global music concert, Play It Out, that saw 20,000 people united to bring awareness and advocacy to climate change, pollution and protecting the environment.
During the concert, the Government of Antigua and Barbuda signed and launched 'The Antigua and Barbuda Declaration,' which aims to encourage all Caribbean countries to act to eliminate single-use plastics and collaborate to end pollution of the oceans.
Antigua and Barbuda is now the first country in the Group of Latin American and Caribbean Countries to take extensive action on single-use plastics.
"We are using music to relay our message to the world, loud and clear, that Antigua and Barbuda takes plastic pollution very seriously, and as a nation, we are holding ourselves responsible and accountable." said Antigua and Barbuda's Prime Minister the Hon. Gaston Browne.
The Declaration is part of the UNGA President Maria Fernanda Espinosa's global campaign against single-use plastics and plastic pollution. Ms. Espinosa who attended the Play It Out event, said "the Declaration highlighted island leadership and the need for urgent and strong commitment to combat plastics pollution", and praised it for being historic, highly practical and implementable.
The concert was made possible with the invaluable support of Arton Capital who undertook its production that saw musicians and artists from around the world come together with policy leaders, innovators, and celebrity guests.
"Arton Capital is proud to partner with the UNGA to support such a monumental day in Antigua in recognizing this vital initiative," said Elizabeth Makhoul, Marketing and Event manager at Arton. "Our keepsake cups made of recycled plastic were signed by the patrons who pledged to help beat single-use plastic pollution."
The concert also hosted an array of speakers including dignitaries, policymakers, celebrities, and representatives from the scientific, philanthropic and academic communities, including actor, and co-founder of Lonely Whale, and UN Environment Goodwill Ambassador, Adrian Grenier, as well as actress Meaghan Good, who co-hosted the event.
Up to 15 million tons of plastic litter are dumped into the ocean each year, causing detrimental and frightening consequences to marine and bird life, human health and the environment.
"We have all seen the images of turtles choking on straws, or birds wrapped in plastic," said Grammy Award winner, Ashanti, who performed at the event. "But these images, while emotional, don't capture how massive this problem really is. This concert is about raising awareness, it's about educating people to the seriousness of the situation."
Along with Ashanti, the concert was co-headlined by Machel Montano, the infamous 'Soca King of the World', and featured top local artists, including Ricardo Drue and Claudette Peters as well as Kanneh-Masons, who recently performed at the wedding of Prince Harry to Meghan Markle.
---